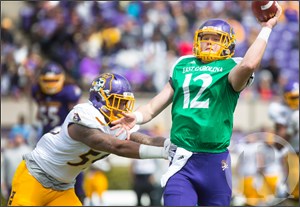 East Carolina football defensive end Chandon Hickerson was charged with three misdemeanors last weekend.
The Greenville Police Department arrest report shows Hickerson was arrested Sunday at 5:41 a.m. on Greenville Boulevard and charged with resisting a public officer, reckless driving to endanger and failure at stop sign/flashing red light. He had a secured bond of $1,000.
An ECU football spokesman said Tuesday afternoon that head coach Scottie Montgomery has talked with Hickerson and is in the process of gathering additional information.
Hickerson made 15 total tackles in nine games as a freshman in 2017.
Source: ECU's Hickerson faces misdemeanor charges – Daily Reflector